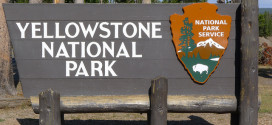 The Yellowstone Association Institute has opened registration for its 2016 Field Seminars.
Read More »
A Lamar Buffalo Ranch energy system combining solar-power generation with re-used Camry Hybrid battery packs is now up and running, which will improve energy efficiency and renewable energy production.
Read More »
It seems a little off-kilter to offer registration for Winter 2011-2012 events when plenty of snow from last winter is still on the ground, but the Yellowstone Association will begin accepting registrations for winter field seminars on June 15 for members, one week later for non-members.
Read More »