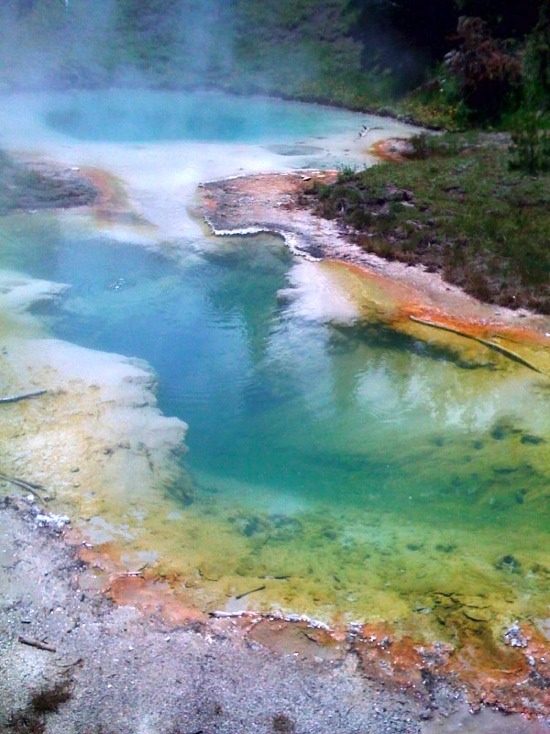 Located along the shores of Yellowstone Lake, West Thumb Geyser Basin is one of the chief beauties in that half of Yellowstone National Park.
The quieter and cleaner counterpart to the east half's other major basin—Mud Volcano—West Thumb's delights sometimes elude travelers looking for the hustle and bustle of places such as the Upper Geyser Basin or Fountain Paint Pots. But for others, looking for a more contemplative experience in Yellowstone, who still want to admire Yellowstone's many thermal riches, West Thumb Geyser Basin is king. Indeed, West Thumb has no major (or even minor, really) geysers, and its waters rarely agitate the way they do in other pockets of Yellowstone. Further, depending on when you visit, some thermal features close to the shoreline may be submerged or lapped by lake waves, with whole swaths underwater even.
Best of all, West Thumb is comparatively uncongested. We'd venture that it's one of the least visited basins in the Park. Which is a shame, because in addition to its stunning collection of hot springs and burbling pools, West Thumb Geyser Basin is also home to a charming Yellowstone Association bookstore.
In the Park's early history, West Thumb was treated as a lunch spot, hailed for its convenient proximity to Lake Hotel. Indeed, visitors could dine at the lunch station (shown above), see the sights, and then catch a stage or even ride a steamer around the lake. Later on, West Thumb became more noteworthy as a stopping place for visitors coming by car; it wasn't until Grant Village solidified in 1984 that the basin became more of a visitor hub.
The boardwalk around West Thumb is uniquely laid out, compared to the rest of the basins as well. Rather than make one large loop, the boardwalk weaves around the basin, divvying it up into two zones, as you can see from the map above. In our experience, the best way to see West Thumb is to take a right at the fork (from the path connecting the basin and the parking lot) and head down to the dividing walk.
There are some exceptionally pretty pools along this walk, such as Collapsing Pool (surrounded by ridges of gray rock) and Blue Funnel Spring, whose impressive pastel hue makes it an absolute stunner.
Arguably, however, West Thumb's best features lie closer to the lakeshore. For instance, on the left side of the basin (facing the lake) there's a pair of pools which rival even Grand Prismatic Spring—if not in size, then in concentration: Abyss Pool and Black Pool. Despite the foreboding names, these pools are hardly sinister in appearance.
Lee H. Whittlesey, in his book Yellowstone Place Names, attributes the name "Abyss Pool" to C.M. Bauer, Chief Park Naturalist who gave it the name in 1935. Whittlesey adds Bauer likely based his choice off a description made by Lieutenant G.C. Doane during the 1870 Washburn Expedition. You may think "abyss" here refers to the color; however, as you can see in the picture above, the "abyss" refers more to depth rather than color, which is really a rather pleasant aquamarine.
Historically , Black Pool lived up to its name, owing to its unusually cool waters: still hot enough for cyanobacteria to grow but cool enough for the ruddy brown kind to thrive. For comparison, you usually see brown cyanobacteria along the edges of pools, or following runoff. Black Pool's original colors were the result of an optical illusion created by the dark bacterial growth and the water's reflection of the sky. Alas, a subtle shift in temperature (along with a series of eruptions) happened in 1991; the uptick killed off the dark-brown bacteria but left the pool itself intensely blue.
The other major feature in West Thumb Geyser Basin is square center in the boardwalk: a growth of geyserite just off the shore, entitled Fishing Cone.
Fishing Cone's name (it was also called Hot Spring Cone, like in the postcard above) is a holdover from a particular time in Yellowstone National Park, when tourists saw the Park as less a place to visit and more a place to play. Indeed, it was established as such; only later did Yellowstone's mission change. At any rate, one of the most popular practice among visiting anglers was to catch fish from Yellowstone Lake and then dip them in Fishing Cone for a quick boil. These days, of course, the practice is prohibited and (it goes without saying) ill-advised.
However picaresque the practice may seem, we'd wager it's better seeing Fishing Cone (and the rest of West Thumb Geyser Basin) as it is today: not as a place to play but to contemplate, to admire.