Midway Geyser Basin is an oddity among Yellowstone's thermal hotspots—and that's saying something.
At first blush, it may not seem all that special. As you follow the Firehole River, which runs just alongside Midway, you see the steam billowing from a distance—there's clearly something going on—but with so many other basins in this corridor of the Park, why stop at Midway?  Don't be dissuaded.  Any reluctance to stop will disappear the minute you get a glimpse of the basin from beyond the parking lot.
As you approach the basin on the bridge, the first thing you see is brown. Specifically, the orange-brown of bacterial growth, fed by a torrent of water pouring off the basin and into the Firehole. It's a marvelous sight, and well worth a picture, although you should stay mindful of your fellow visitors.
In terms of features, Midway has the least number of features. Indeed, it only contains five pools, but each ranks among the best hot springs Yellowstone has to offer.
The basin used to be known by a much more suggestive name, one attributed to British writer Rudyard Kipling who visited in 1889: Hell's Half Acre. Kipling himself said the name came from an anecdote about a woe begotten traveler driving through the Park:
Once upon a time there was a carter who brought his team and a friend into the Yellowstone Park without due thought. Presently they came upon a few of the natural beauties of the place, and that carter turned his team into his friend's team, howling: "Get back o' this, Jim. All Hell's alight under our noses." And they call the place Hell's Half-acre to this day … There was a plain, blistered and peeled and abominable, and it was given over to the sportings and spoutings of devils who threw mud and steam and dirt at each other with whoops and halloos and bellowing curses. The place smelt of the refuse of the Pit, and that odour mixed with the clean, wholesome aroma of the pines in our nostrils throughout the day.
It's possible Kipling was relating this in jest, a characteristic that runs throughout his account of his Yellowstone trip. At any rate, the 1899 Haynes Guide shares a different account of the "Hell's Half Acre" name that's worth noting. Indeed, by Haynes' account, the name refers more to present-day Excelsior Geyser than anything else:
Visited by thousands annually, this section became known as "Hell's Half Acre" a name it retained until, when discovered by Col. P.W. Norris to be a geyser of great force, and then named by him "Excelsior." Its eruptions in 1881 began in the fall, after the tourist season had closed; Col. Norris witnessed upwards of thirty eruptions, varying from 75 to 250 feet in height, at intervals of one to four hours.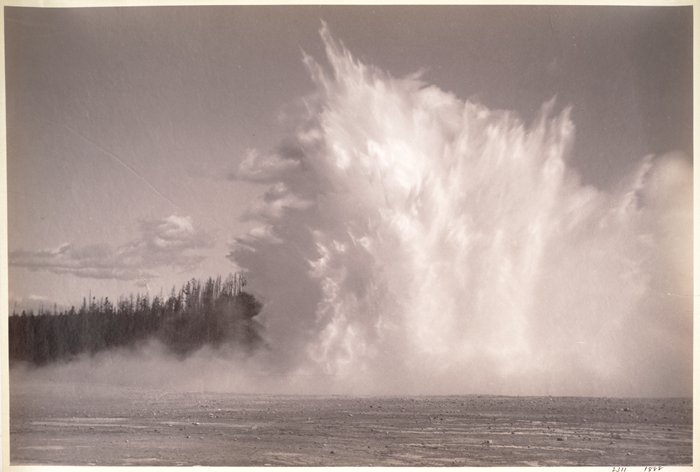 Excelsior went dormant from then until 1888, when it sprung back to life and, for a brief time, held the mantle of tallest geyser in the world. Today, of course, it's a ghost of its former self, literally crestfallen, and pales in comparison to its neighbors.
Turquoise Pool, connected to Excelsior via underground plumbing, is a brilliant body of water, as its neighbor Opal Pool. There's also Indigo Spring, located far off the present-day boardwalk. It's easy to mark its location from the road though, as its runoff has created a channel of yellow-brown bacterial growth similar to Excelsior's runoffs. The crowning jewel of Midway Geyser Basin, however, has to be Grand Prismatic Spring, shown at the very top of the page.
The third largest hot spring in the world, and the largest in the United States, Grand Prismatic is flat-out astonishing. With a center bluer even than the sky, colors radiating outward as the water temperature, it's a bona fide thermal rainbow. Even if you can't normally see it like in the aerial photo above, it's still awe inspiring. It's not uncommon to see people sitting at benches along the pool's length, easels poised and paintbrush in hand, trying to capture the pool in watercolor.