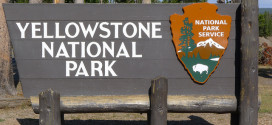 A few roads will be opening to cars in Yellowstone National Park Friday, April 21, 2017.
Read More »
This Friday, parts of Yellowstone National Park will be opening up to vehicle traffic.
Read More »

 
A visit during the winter season shows a completely different -- and refreshing -- side of the Park. Parts of the Park are dormant, as many species retreat into dens and nests for hibernation. But other parts seem even more majestic than during the summer months.
Read More »