It's that time of year again as Yellowstone celebrates Christmas in August.
Read More »
A handful of former Yellowstone employees who last worked together in the mid-to-late 1950s meet up at Lake Lodge for reunions.
Read More »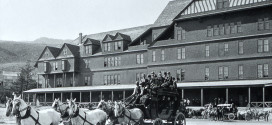 Those with an interest in Yellowstone history may be amused this account of the colorful characters guiding visitors through the Park in 1915, in these tales of dude wranglers, savages and more.
Read More »